Food insecurity and hunger continue to grow in Maine; the pandemic and rising food costs are driving more people to their local food bank or pantry.
Since the beginning of the pandemic, Preble Street has produced and distributed more food than ever before – over one million meals a year – and increased output by over 50% since March 2020. "We receive ingredients from many different local organizations, from restaurants or farms or grocery stores, and give them a new life and turn them into meals for clients," says Natalie Varrallo, Food Programs Director. "We have so many awesome food resources here in Maine; we really want to be a bridge to bring those together and get them to people in the community."
For example, Preble Street receives about 1,500 pounds of fresh, frozen fish – like monkfish or pollock − each week from the Maine Coast Fishermen's Association Fishermen Feeding Mainers Program. We prepare at least two meals weekly with that fish at the Food Security Hub, as well as provide fish to the Maine Immigrants' Rights Coalition (MIRC) for their hot, culturally appropriate meals food distribution program at the Root Cellar. Whenever possible, this fish is also included in Preble Street's culturally appropriate meal boxes alongside other pantry ingredients.
"Right now, chefs and volunteers can prepare about 2,000 meals a day, but when the Food Security Hub is fully built out in a few years, we will be able to create up to 10,000 meals a day. Ramping up our food processing abilities so that we can preserve or freeze more food and meals is our next big goal," says Natalie. "And, it's not enough to just provide people with food – we are providing people with nutritious and delicious food."
Getting food to where it is most needed in the community is an everchanging challenge and takes a heroic effort (especially in the winter months) from volunteers, partners, and staff. Every day, Preble Street delivers meals to the City of Portland shelter and other area shelters; to unsheltered people throughout Portland; and now to the Elena's Way Wellness Shelter and patients receiving recuperative care at the Congress Street Health Center, a partnership between Greater Portland Health, Preble Street, and Maine Medical Center. We also collaborate with local nonprofits, including the Boys & Girls Club of Southern Maine, Presente Maine, the HOME Team, and Milestone Recovery, to increase distribution and expand food access.
We've also added several new models of grocery meal distribution to get food to individuals and families as easily as possible. Each week, our vans do bulk food drops at affordable housing sites, motels, and agencies such as MIRC and Greater Portland Family Promise. Caseworkers from Preble Street programs, as well as outside agencies like The Opportunity Alliance and Spurwink, order and pick up food boxes for their clients. We also collaborate with DoorDash, which donates drivers' time to deliver food boxes directly to clients across Cumberland County and beyond.
The Food Security Hub is the first food hub in Maine dedicated to food security and is already transforming the way we approach ending hunger across the state. It's playing a key role in building a sustainable and equitable food system in Maine and we are excited to see our full vision become reality over the next several years.
Read more from the Winter 2022/23 Curbside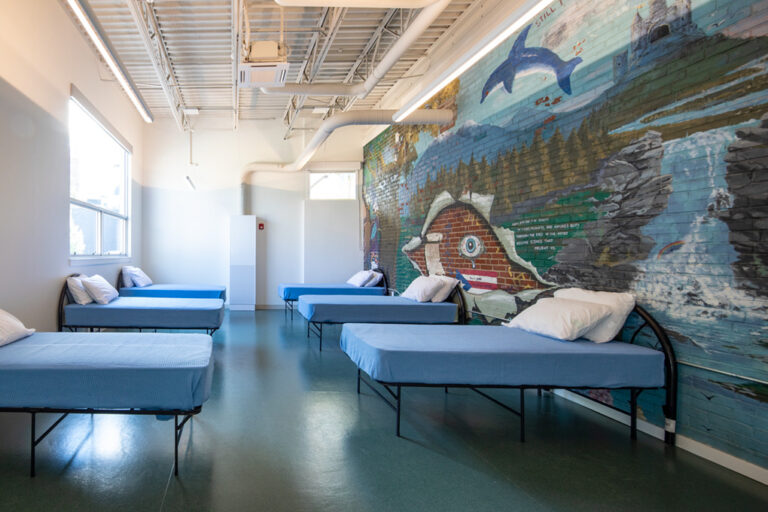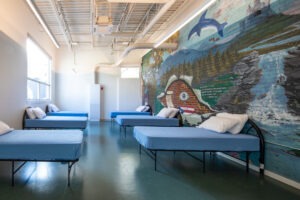 For anyone paying attention over these last few years, it's become abundantly clear that emergency shelters for people experiencing homelessness are an important part of the public health infrastructure. Shelters didn't close during the pandemic. Shelter staff and our partners in the healthcare industry did not work remotely. We stayed open, and, in many cases,
Read More »