Monetary donations and the efforts of committed volunteers allow us to continue providing services to those who depend on us. We also invite you to join us in other ways in our efforts to create solutions to the problems of homelessness, hunger, and poverty.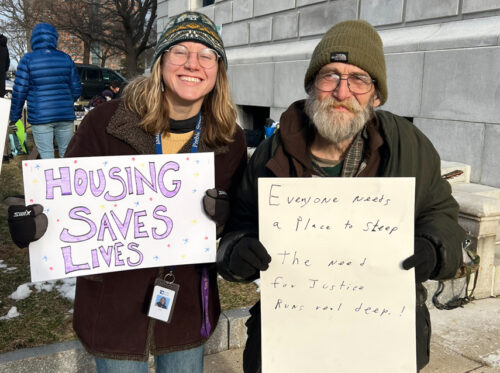 Stay Connected and Get Involved
Sign up for our Advocacy Alerts and we will keep you posted on opportunities for you to get involved. Whether it's a rally to bring attention to the tragedy of violence against people experiencing homelessness, a city council meeting to support affordable housing in our neighborhoods, a letter to the editor of your local paper to express your views on the rights of immigrants, we can use your help. Your presence and your voice, your words, and your opinion make a difference. When we stand together for social justice, everyone wins.
Encourage Landlords To Be Part of the Solution
Homelessness is a solvable problem, but to address homelessness in Maine, we need landlords. If you have available units and want to rent them to people experiencing homelessness, please reach out to us at LandlordsHelp@preblestreet.org. 
Support Preble Street When You Shop
You can support Preble Street by shopping on iGive! 
Learn More
Learn more about what goes on at Preble Street by checking out our What We Do section and our recent news.