STREET OUTREACH COLLABORATIVE
The Street Outreach Collaborative provides social work services and meals every day on a mobile basis at various stops around Portland where unhoused people spend time or have appointments.
Meals are distributed on a scheduled route in the morning and in the afternoon on holidays and weekends with services all day helping connect people with shelter, housing, health services, IDs, clothing, and other things to help them work toward goals. Each weekday afternoon, the Street Outreach Collaborative team focuses on services and meal distribution in a way that is more targeted towards individuals experiencing unsheltered homelessness who have barriers to accessing food and other services. 
Let us know where you will be! Call 207-775-0026 ext. 1880 and leave your name, number, and where you're staying to register with the Street Outreach Collaborative team.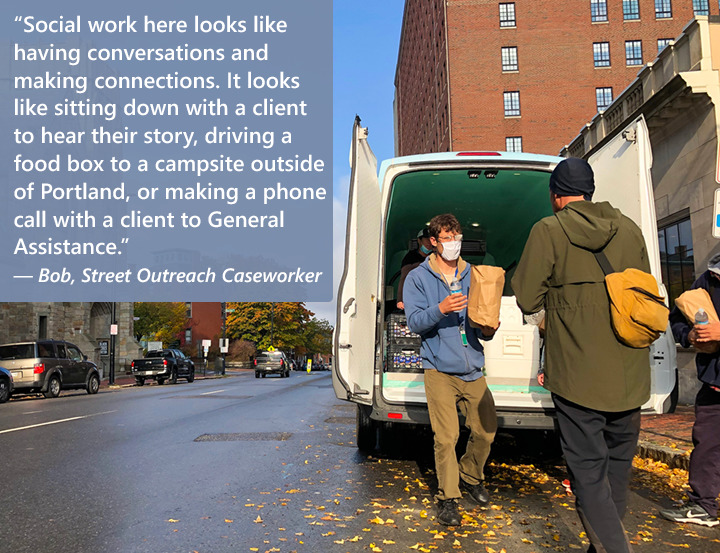 Street Outreach Collaborative Schedule
Morning meals are distributed between 10-11:30 am; on weekends and holidays only, afternoon meals will also be distributed between 3:15-4:45 pm.
Twice a day — every morning and afternoon — staff from the Street Outreach Collaborative (SOC) complete van runs, driving to various stops in Portland to provide food, clothing, and other basic needs to people living outside. These stops are also a chance for caseworkers to check in with unsheltered clients to see what other
Read More »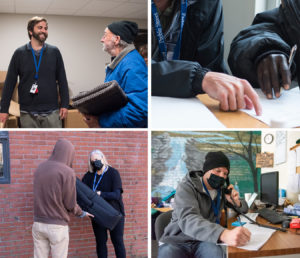 "In my time working here, I've been able to provide people with many things. I've given people vouchers, I've helped people move into apartments, I've helped somebody repair their vehicle. I've provided all of these material things. But time and time again, when people talk to me about what was most important to them, it's been
Read More »

1.21.22 UPDATE: Due to the extreme cold expected today, the Cold Weather Community Response Plan has been activated and a Warming Station will be open for the day for clients experiencing unsheltered homelessness. First Parish Portland Unitarian Universalist Church has graciously agreed to open its doors again, and the space will be staffed by a
Read More »