PREBLE STREET ANTI-TRAFFICKING SERVICES
Preble Street Anti-Trafficking Services (ATS) paves the way forward to healing, growth, self-sufficiency, and a life free from coercion and exploitation.
Since 2013, Preble Street ATS and its partners have provided services to women and men, transgender individuals, and children who have been forced into all types of human trafficking — people who have been forced to perform a variety of work — including commercial sex work, domestic services, agricultural and restaurant work — through sexual, physical, and/or psychological violence. All here in Maine.
The Anti-Trafficking Services client-centered, empowerment philosophy provides access to services and information, helps survivors understand those services, and supports survivors. In addition to facilitating healing and growth, Anti-Trafficking Services promotes individual and systemic justice, working with clients to ensure they have choices, including access to the following services:
Intensive Case Management
Basic needs
Shelter and housing support
Medical and Mental health referrals
Substance use disorder, Harm reduction, and Recovery connections
Immigration, civil/criminal legal referrals
Justice system Advocacy
Access to public benefits and other community resources
Survivor Leadership opportunities
Technical Assistance
As a leader in the anti-trafficking movement in Maine, ATS has supported more than 600 victims, enrolling over 300 in intensive case management and housing support services. ATS has worked with victims of trafficking throughout the state, representing all ages, genders, immigration statuses, and types of trafficking, while building awareness across disciplines and providing expertise to local, state, tribal, and federal agencies.
How can I request a Training or Outreach?
Training:
We provide customized trainings across the state to increase education and enhance provider capacity to respond to trafficking. To start connecting, please submit a Training Request!
Outreach:
To have ATS join a team meeting, table at your event, or participate in a conference, panel, or event, please send an email to atsmanagement@preblestreet.org. 
Opportunities to Support or Get Involved
Wishlist: To donate needed items for survivors, please connect with the Preble Street Receiving Center to drop off in-kind items. Most requested items include:

Bus passes, uber gift cards, gas cards
Backpacks or bags
General Toiletries
Culturally inclusive toiletries, hair-care products, or pantry items
Comfort clothing (sweatpants, lounge pants, sweatshirts, sandals)
Journals, adult coloring books, art supplies

Have Housing to offer? Safe housing is often one of the most expensive costs in supporting survivors of human trafficking. If you or anyone you know have a housing opportunity you would like to connect about, please reach out to us!
Donate: Feel confident that your gift will directly support human trafficking survivors; we use financial contributions to help survivors in their transition out of their trafficking experiences. Learn more.
Volunteer! Lend your professional expertise (medicine, law, mental health, etc.) to support the people we work with. Learn more.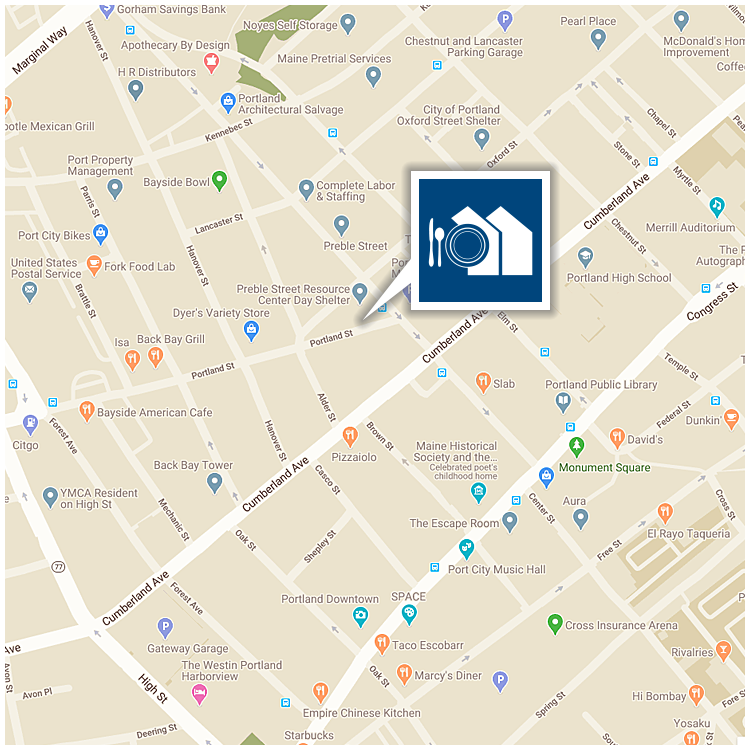 If you or someone you know is experiencing exploitation or trafficking, please reach out to (207) 775-0026 to connect. If you are experiencing an emergency, please call 911.
You can also reach us through the following form. Please note when submitting a referral, responses may not be immediate. We do our best to provide timely follow-up, however, if you do not hear back, please feel free to resubmit.
This video of the Preble Street Healing Center for survivors of human trafficking highlights the program and provides a tour of the space. The Healing Center opened in the summer of 2021.