5,000 households — in Cumberland County alone — depend on food pantries every month. This number is increasing dramatically due to the COVID-19 pandemic and economic downturn. These are dire circumstances.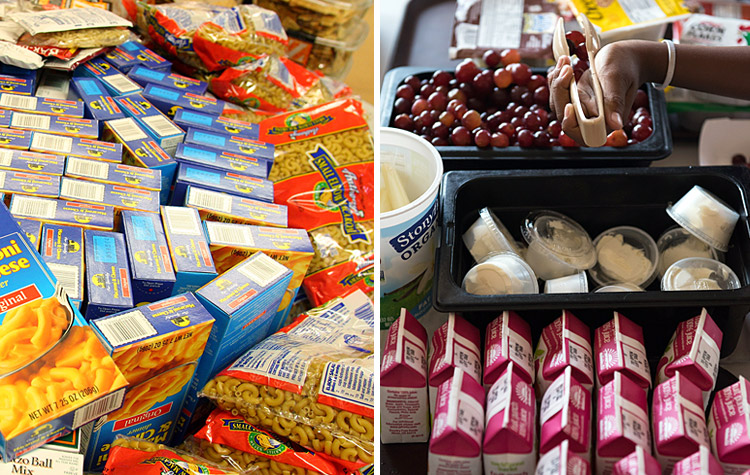 To respond to a systemic crisis that had grown unabated for decades, Preble Street created the Maine Hunger Initiative (MHI) in 2008 to meet immediate food needs, offset food supply shortages, and develop long-term solutions to hunger.
Maine Hunger Initiative first took action to offset food supply shortages for food pantries in Maine in early 2009, partnering with United Way and private funders throughout Maine on the Food for Maine project which raised nearly $300,000 to stock pantry shelves across the state.
It next developed efficient, client-centered emergency food services at Preble Street, merging with St. Luke's Soup Kitchen and partnering with hundreds of faith groups, civic organizations, businesses, and individuals to operate eight soup kitchens and a food pantry.
Its most important task, however, is to bring an end to soup kitchen and pantry lines by building the capacity of volunteer-run local food pantries, strengthening the emergency food system, creating practices and policies to assist Mainers experiencing hunger to become more self-sufficient, and to end hunger in Maine by working to:
Make Maine an anti-hunger leader, particularly in child-related food policies such as the availability of stigma-free school breakfast and lunch, and summer meals for all Maine children
Improve access to food and other rights that reduce personal poverty and are economic drivers
Develop best practices and education/training at points of access (e.g. food pantries, Head Start) throughout the state
Promote policies and funding that benefit both local farmers and Maine families experiencing hunger, decreasing wasted crops and sustaining local agriculture
Empower people in poverty to increase public awareness of hunger and create solutions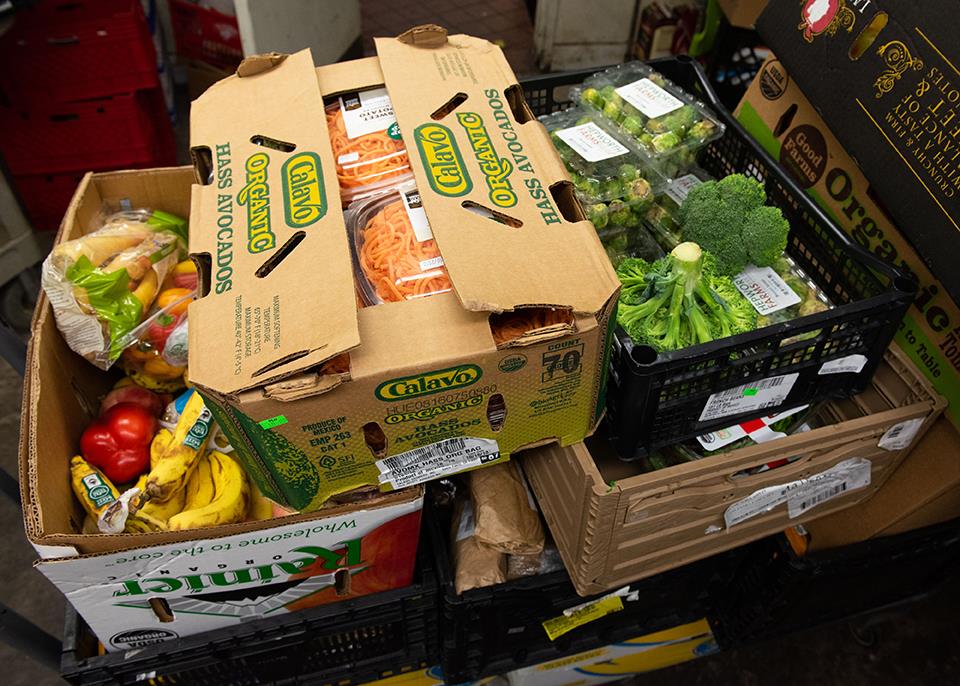 Emergency Food Work
Our direct service, emergency food work meets the basic needs of the most impoverished residents of Maine's largest urban area, providing over 1 million meals each year at Preble Street:
Food Security Hub distributing meals 365 days a year to area shelters and the YMCA, as well as to people who are unsheltered through the Preble Street Street Outreach Collaborative
Soup Kitchens in two locations providing nutritious meals 3x a day, 365 days a year to youth at the Preble Street Teen Center and women at Florence House shelter
Food Pantry open four days a week for households facing economic hardship, disabilities, cultural challenges, etc.
and offering social work services to empower people to move beyond hunger and poverty.
Organizing
MHI organizing began by connecting with all 80 food pantries in York and Cumberland Counties, a critical but fragile resource, to assess the emergency food delivery system. Coordinating efforts of 49 Cumberland County pantries, we worked to alleviate hunger and create a blueprint for a sustainable, replicable system through:
Regional food pantry meetings
Technical assistance and training
Food sourcing partnerships (e.g. Farm to Pantry)
Best practice research and implementation
On the Federal level, MHI:
joins in the Center on Budget and Policy Priorities (CBPP) convening calls on SNAP access and participation
represents the state of Maine on quarterly calls with the nation's Food and Nutrition Service (FNS) and the U.S. Department of Agriculture
participates in the Food Research & Action Center's (FRAC) convening calls on Pandemic-EBT and other nutrition programs
Advocacy
Advocacy efforts aim to raise public will to end hunger by augmenting public programs designed to promote self-sufficient families, stable local economies, and healthy communities. Partnering with the Food Insecurity Coalition, Maine Council of Churches, Maine Equal Justice, and Muskie School of Public Service, we are developing steps to eliminate conditions that force people to depend on food programs. Our collaborative anti-hunger work includes:
Supporting anti-hunger and food insecurity legislation on the state and national levels
Identifying and addressing food insecurity public policy and administrative gaps
Organizing legislative testimony by people who experience food insecurity
Advocating with Federal Congressional delegation on a range of food insecurity polices including Food Supplement benefits like SNAP, TANF and P-EBT
Hunger in Maine
Food insecurity affects 16.4% of households in Maine
Maine ranks 6th in the nation, and 1st in New England, for very low food security ("hunger")
Food insecurity and hunger affect Maine households at a rate significantly higher than the national averages of 13% and 5.2%, respectively
Food insecurity and hunger in the United States peaked in 2011 (following the recession) and have been steadily decreasing in the years since—they remain consistently high in Maine
Maine has gone from being ranked 19th worst in the country for food insecurity and 7th worst for hunger in 2011, to being ranked 7th worst for food insecurity and 3rd worst for hunger in 2016, behind just Alabama and Louisiana for worst in the nation
DHHS reported a 38% rise in SNAP (food stamp) participation between 2008 and 2012
Currently Maine is only serving 16% of children who eligible to receive a free meal in the summer
In 1977 there were 3 food pantries open in southern Maine, today there are 80 food pantries—approximately a quarter (25%) of these pantries have opened in the past 5 years
Food pantries provide food to more than 25,000 people in southern Maine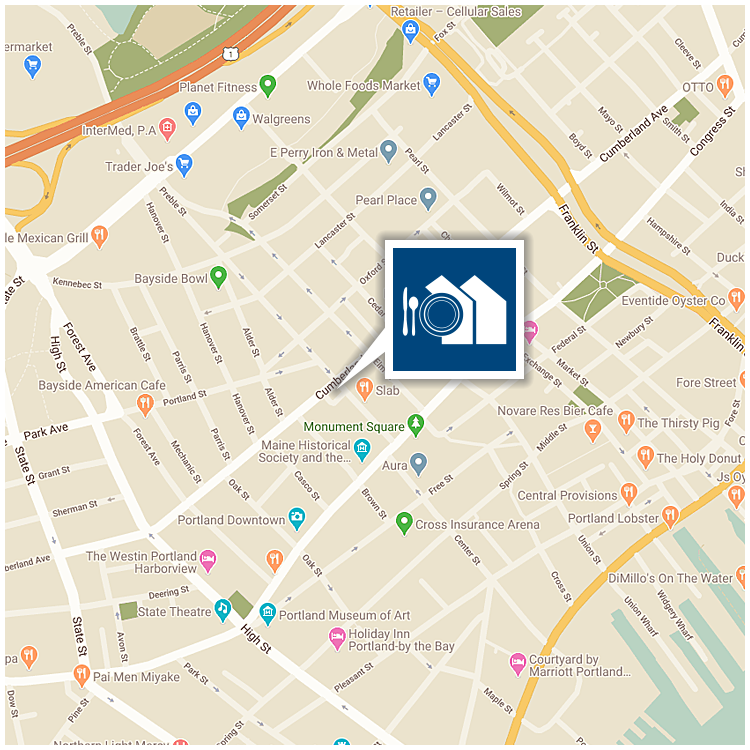 Monday – Friday
8:00am – 5:00pm
Address:
38 Preble Street, Portland