Homeless Voices for Justice (HVJ)
Homeless Voices for Justice (HVJ) is a grassroots organization that works for social change with, and on behalf of, people with lived experience of homelessness and poverty.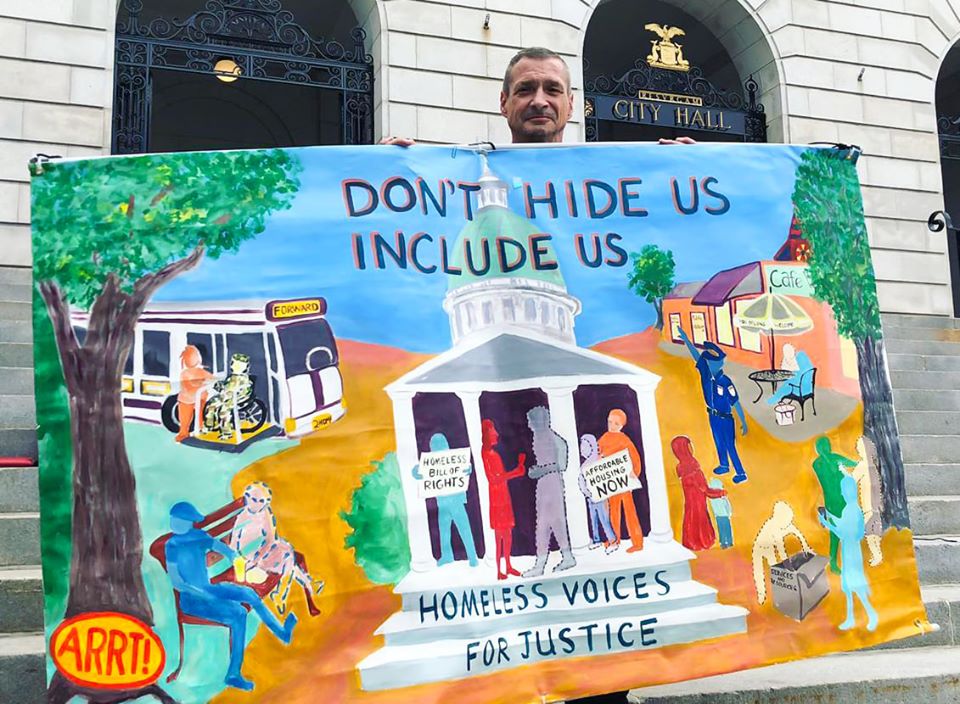 HVJ organizes efforts based on the belief that true change occurs only when people affected by an unjust system are directly involved in addressing the injustices, and in which disenfranchised people become empowered and gain leadership skills to organize and advocate for institutional change. Since 2020 the Advocates have increased their focus on race equity and hold a 30-minute decolonization discussion at the beginning of each weekly meeting.
Our Social Change Activities
HVJ's social change activities range from representation in planning bodies, to policy advocacy, to voter registration and community education, to direct action.
People experiencing homelessness have always faced the challenge of simultaneously dealing with the harsh realities of surviving homelessness while wishing to direct their energies to combating the injustices of homelessness. But knowing that you have to be at the soup kitchen at a particular time or you won't eat can get in the way of actively participating in the change process.
Our efforts to register new voters move, inspire, and remind us of the common ties that bind us in our democracy and our humanity so together, rich and poor alike, we can improve our country for all.
Advocate Leaders
Homeless Voices for Justice Advocate Leaders act as organizers, seeking input and speaking on behalf of those who are unable to be actively involved. All Advocate Leaders have experienced homelessness, live on poverty-level incomes, and are skilled in public speaking and public policy analysis.
Our Advocate Leaders
Ben Martineau
Carolyn Silvius
Cheryl Harkins
Jim Devine
Mike Stuckmeyer
Accomplishments
Homeless Voices for Justice celebrated its 25th anniversary in 2020.
Among many accomplishments on legal rights, housing and healthcare, hunger, representation on policy-making bodies, and coalition building, Homeless Voices for Justice has:
Initiated a campaign to increase the recognition of and response to incidents of harassment due to a person's lack of housing, helping to ensure that people struggling with homelessness are treated with the same respect and dignity as those who are housed. This resulted in the 129th Maine Legislature passing a resolve directing the Maine Human Rights Commission to create a two-year pilot program to receive, review, and investigate incidents and complaints of harassment due to a person's homelessness status.
Organized and advocated for the Don't Freeze Out the Homeless campaign, aimed at restoring HUD funding to Portland and changing HUD's nationwide application review policy.
Participated as the only representatives of the homeless community on Portland's Emergency Shelter Assessment Committee, the key decision-making body in assessing the city's shelter situation and developing policies to address the needs of people experiencing homelessness.
Advocated for an increased supply of affordable housing and improvements to the city's shelter system.
Conducted ongoing You Don't Need a Home to Vote voter registration campaigns, which have registered over 2,500 homeless and low-income people.
Organized candidates' forums and other educational efforts during elections.
Initiated a campaign to address hate violence targeting people experiencing homelessness that led the Maine legislature to include homelessness as a protected category under a law that allows a crime victim's group identity to be considered in sentencing. Signed by the Governor at the Preble Street Resource Center Soup Kitchen, the law received national attention and resulted in decreased attacks on people experiencing homelessness.
Represented consumers on Maine's Homelessness Councils.
In addition to the social changes resulting from this advocacy, Homeless Voices for Justice has a profound effect on its members, including increased self-esteem, community respect, and an understanding of the collective nature of personally-experienced injustices and the power of collective action. The empowerment and sense of dignity produced by "finding our voice" and participating with peers in making change cannot be overstated.
As one advocate said, "It's helped me to see how huge poverty really is. I'm not alone. I have a greater understanding of oppression and exploitation now."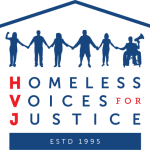 Monday – Friday
8:00am – 5:00pm
Phone:
207-775-0026 (Ask for HVJ)
Email:
hvj@preblestreet.org
2022 Candidate Questionnaire Answers
(Note: Questionnaires were sent to all candidates in each of the races below. If a candidate is not listed here it is because they did not return their questionnaire.)
Governor
Sam Hunkler
Janet Mills 
Maine House of Representatives – District 41
Sam Zager
Maine House of Representatives – District 120
Deqa Dhalac
Portland City Council – At Large
Pious Ali (candidate did not return questionnaire)
Aqeel Mohialdeen (candidate did not return questionnaire)
Richard Ward
Portland City Council – District 3
Nathaniel Ferguson
Regina Phillips
IN MEMORY OF DIANNE 'DEE' CLARKE
For more than 20 years, dee Clarke was a tireless advocate, always speaking up and speaking out with compassion in support of social justice.  dee passed away on Sunday, October 31, 2021, at Gosnell Memorial Hospice House and will be dearly missed by all of us here at Preble Street.  Whether as a person with lived experience, an advocate, a colleague, a teacher, a partner, or as a valued, trusted friend, dee modeled the Preble Street values of treating everyone with dignity and respect.