On Monday, November 20, 2023, at 5 pm, the Portland City Council will consider an ordinance amendment drafted by City Councilors Anna Trevorrow and Roberto Rodriguez that will effectively place a moratorium on encampment sweeps and lift the "emphasis" area designations through April 30, 2024.
Please reach out to Portland City Councilors to ask them to support this ordinance to stop the sweeps and work on effective solutions that will move people to shelter and housing. We hope to see you at City Hall on Monday evening!
 Portland is a community that values safety, healthy living, and solutions to homelessness – we all agree that it is inhumane for people to live outside, especially with the cold of winter upon us.
Sweeps don't work and are not a solution to this crisis

.
Each time a sweep has happened in recent months (Bayside, Deering Oaks, Fore River, Marginal Way), the people living in that encampment have moved to a different location within the City and experienced needless physical and emotional harm, including an increased risk of mortality, overdose, and hospitalization. Sweeps, coupled with the growing number of emphasis areas, have led to larger and larger encampments and unhealthy environments for people living in the encampments and surrounding neighborhoods.
In addition to supporting this moratorium on sweeps, please ask the City of Portland to:
Support the health and safety needs of the entire community by providing essential services for unsheltered individuals such as water, toilets, food, medical care, mental health, and substance use treatment.
Create an Intentional Plan to shelter and house unsheltered individuals. More than 100 beds will soon be available at the City of Portland's Homeless Services Center and we need to move more people into shelter. For any plan to be successful, it must be created in partnership with unsheltered individuals.
Continue efforts to make City shelters more low-barrier and accessible to people who are living outside. The City of Portland has just begun an outreach campaign to move more people into the Homeless Services Center and we must give this time to work.
We need EFFECTIVE solutions!
Please support the above amendment by attending the City Council meeting on Monday, November 20, OR emailing the City Council before noon on Friday, November 17, 2023.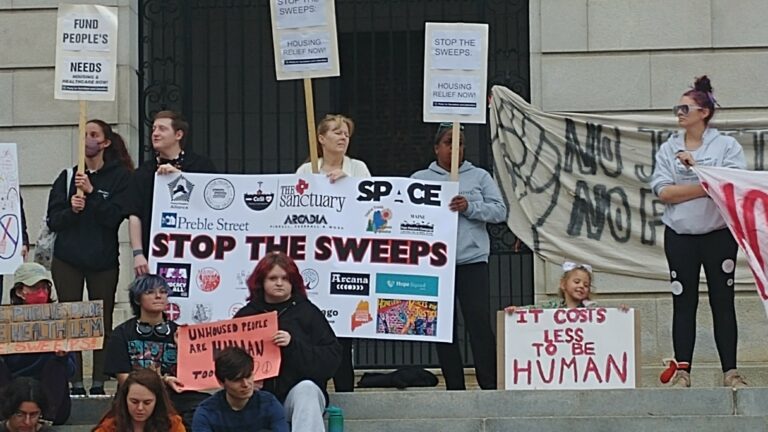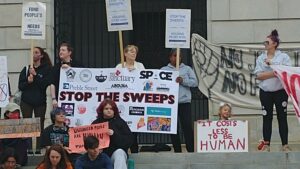 Simply adding more beds at Portland's Homeless Services Center won't solve the City's unsheltered homelessness crisis. If we want people living in tents to access shelter, it is critical that the services provided are delivered with their needs and voices at the forefront.   On Tuesday, September 26, 2023, the Portland City Council will hear
Read More »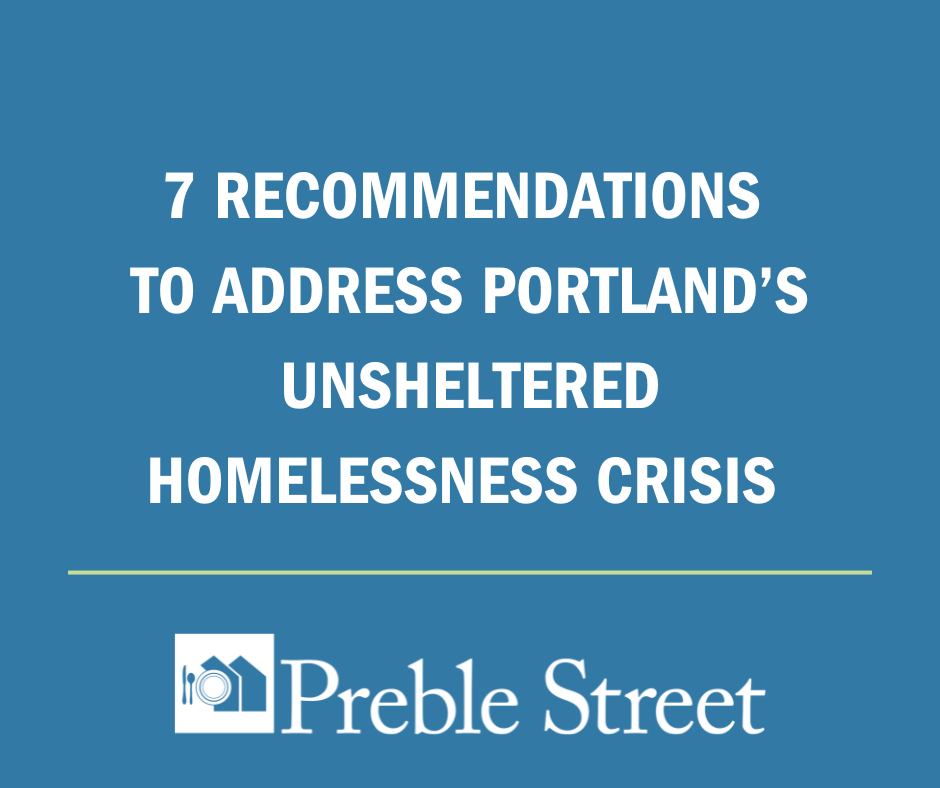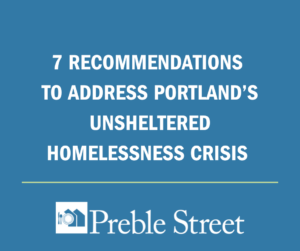 Portland, Maine, has a unique opportunity to drastically decrease encampment and unsheltered numbers with the opening of the new Riverside shelter and its 179 new beds. Read Preble Street's seven action steps to address this public health, housing, and shelter crisis.
Read More »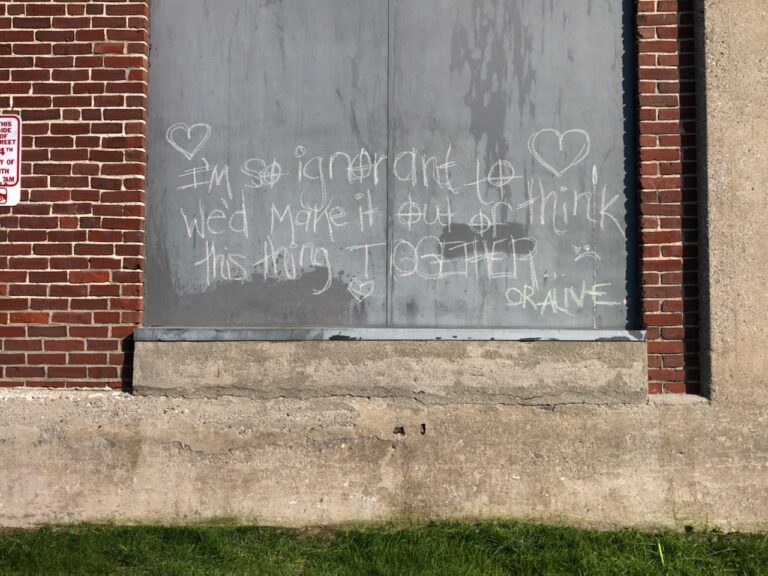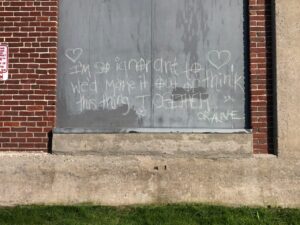 The chalk writing on the doors near the Bayside Trail says, "I'm so ignorant to think we'd make it out of this thing TOGETHER…or alive." The hearts surrounding the message give hope, but the 'or alive' just scratches the surface of the despair we all feel knowing that there is no ready, short-term solution for
Read More »