"There are days it can feel like we're alone in this work, it's nice to come together like this and remember that we're not."
– Conference on Homelessness attendee  
Last week, over 200 political, social services, business, and faith leaders from across the state of Maine came together for the first-ever Preble Street Conference on Homelessness. These leaders were joined by people with lived experience of homelessness on panels and in the audience. "We can't talk about what works or doesn't work without hearing from people who have directly experienced homelessness – their lived experiences tell us what works or not, where there are gaps in our systems, and what we need to do better to provide the services that people need," said Donna Yellen, Vice President of Strategic Initiatives. "Their experiences and resiliency also give us hope for the future and belief that we can end homelessness." 
Tackling difficult topics including a better shelter system, statewide solutions, youth homelessness, criminalized homelessness, unsheltered homelessness, and healthcare, presenters and attendees collaborated on dissecting the best ways to implement solutions to the growing homelessness crisis and determining what needs to happen right NOW to support people facing this crisis.  
Many participants highlighted the need for a better shelter referral system and coordinated efforts by state, city, and non-profit agencies to connect people to services. "Immigrants are resilient people. But the struggles we faced during the pandemic, we're still facing today," said Mufalo Chitam of Maine Immigrants' Rights Coalition on how these missing pieces have affected New Mainers.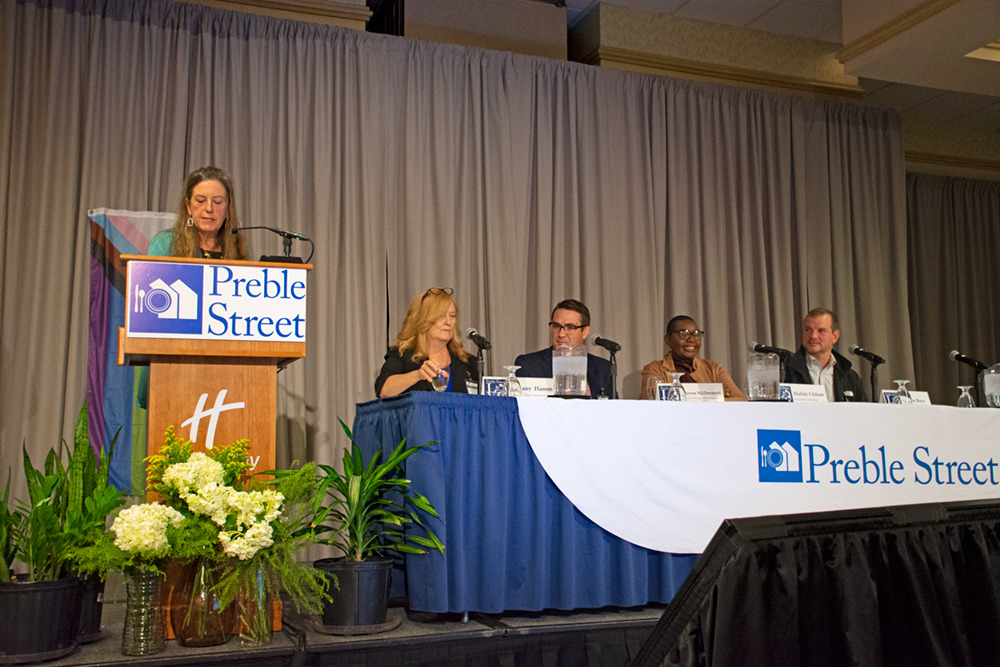 Presenters in several workshops emphasized the need for more shelters and policies that lift up rather than push down vulnerable community members. "We need to address NIMBYism statewide if we want to accomplish anything. People staying in shelters and on the streets are members of our community too," shared Steph Primm of the Knox County Homeless Coalition. "Policies that ban life sustaining conduct in public, like sleeping & camping, effectively prohibit unhoused people from existing in public spaces and threaten them with civil and criminal penalties for the involuntary act of living without a home," remarked Meagan Sway of the Maine ACLU. "Sleeping is only criminalized when you're homeless," added Frank D'Allessandro of Maine Equal Justice.  
Low-barrier shelters and services were also top of mind. "If you're not weaving harm reduction into your homeless services, you're not doing it right," said Andrew Bove, Preble Street Vice President of Social Work. "When we turn someone with substance use disorder away from shelter or other services, we take away that little piece of hope and it has a cascading effect," shared Jennifer Sinclair of the Health Equity Alliance. 
And the disproportionate effect of homelessness and poverty on BIPOC and LGBTQ+ communities was kept at the forefront of every topic. "In 2021, a full 55% of the youth and young adults that we served at our Teen Shelter, identified as BIPOC, compared to 1.9% in Maine's general population." Said Leah McDonald, Senior Director of Preble Street Teen Services.  
Preble Street, thanks to the support of the Atlantic Charitable Fund, is planning to host a conference on homelessness every two years in different parts of the state. For more information about this year's event, please visit the Conference website.