Preble Street has top-tier volunteers, and this Volunteer Appreciation Week, we cannot thank them enough for their time, dedication, and love!  
In the last year, over 1,000 individuals have volunteered with Preble Street, making a difference in the lives and hearts of staff and clients. We could not do the work we do without them! These individuals help prepare thousands of meals each week, sort and organize in-kind donations, facilitate community nights at Housing First sites and Teen Services, lead trauma-informed yoga sessions for human trafficking survivors, and provide haircuts to clients. 
On April 14, we were able to have our first in-person Volunteer Celebration since 2019, and it was worth the wait! Highlights included:
Delectably delicious 

snacks lovingly prepared by Preble Street Chefs Emily and Meade as well as one of our wonderful volunteers, Loan.

 

The debut of new volunteer swag

 

The unveiling of renderings for the Food Security Hub

 

An informative talk on food insecurity in Maine and the future of the Food Security Hub by Preble Street Food Programs Director Natalie Varrallo

 

Remarks from Executive Director Mark Swann about the incredible past service of Leon Gorman, former Preble Street Volunteer and namesake of the Preble Street Volunteer of the Year award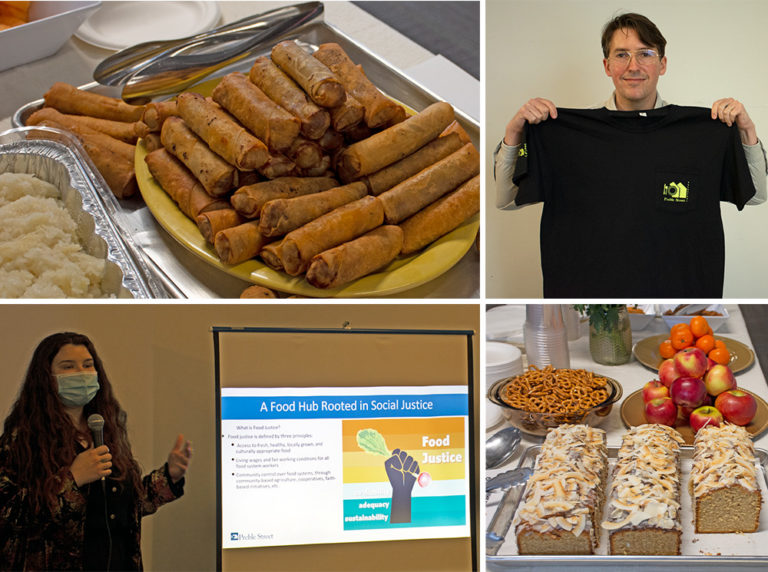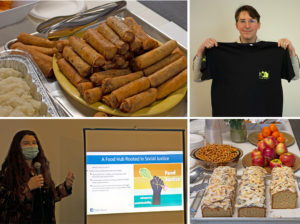 But the biggest highlight, of course, was the presentation of the Leon Gorman Volunteer of the Year (VOY) Award to the one and only Donna Wampole! Along with our admiration and appreciation, she received a beautiful cutting board made and engraved by 2013 VOY winner Bob Harradon!
Donna has been instrumental to the Preble Street mission as a delivery volunteer, a volunteer at the Florence House kitchen, and a weekly volunteer at the Food Security Hub. She's everywhere! Not only does Donna regularly serve breakfast at Florence House single-handed, she even helped develop a training curriculum for Florence House breakfast volunteers, making it possible for new folks to get started quickly and easily. When she's not at Preble Street, Donna teaches in the Social Work program at USM, and has sometimes even run into her students as they conduct fieldwork at Florence House.