Monday, November 15 was a bittersweet day — it marked the last day of meal preparation at the Preble Street Central Kitchen. The Central Kitchen (also known for many years as the Resource Center Soup Kitchen) served millions of meals in its 28 years and played a vital role in the community for clients, staff, interns, and volunteers alike!
When our soup kitchen opened in August 1993, Preble Street served about 200 breakfast and 200 dinner meals five days each week. And the pantry served about 80 families, one day a week.
Over the years, our output of food has increased dramatically to meet community needs. We expanded meals to seven days each week, added lunches, and developed emergency food boxes and to-go meals as needed. 
When the pandemic hit, with clear guidance and advice from infectious disease specialists, Preble Street made the difficult decision to shift our anti-hunger efforts from a soup kitchen model where hundreds of people experiencing hunger needed to congregate in a crowded space three times each day. With this change, Preble Street Food Programs team began creating prepared meals for people to eat where they are – whether that is at emergency shelters, the YMCA, sober homes, or on the street for those who are unsheltered. No longer did people have to stand in line, trudge through snow and bad weather, sometimes carrying everything they had, in order to get a hot, nutritious meal.  
For the second year in a row, Preble Street is on track to provide more than one million meals to people in need. The facilities at the Central Kitchen were just not big enough or well-equipped enough to allow us to respond to the current need. Preble Street needed to find a new space designed and built for that purpose, with much larger capacity.
Preble Street's new Food Security Hub will help us meet these growing needs and scale our efforts to end food insecurity in Maine. The Food Security Hub will help us better meet the needs of our community and deliver more meals and grocery boxes filled with nutritious food.
But, as excited as we are about the Food Security Hub, we will miss the Central Kitchen. It was a place where all were welcome, where many delicious meals were served with dignity and respect, and where food provided the opportunity for connection.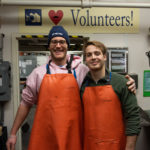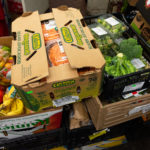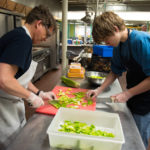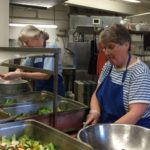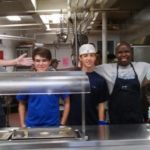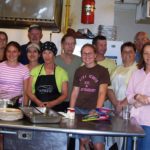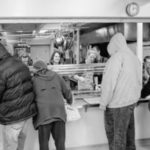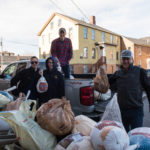 We asked a few members of the Preble Street staff and volunteers to share some of their memories of the Central Kitchen through the years:
"I remember serving the very first meal there in August 1993. August 23rd, to be exact! I remember it well – we served Barber Foods Chicken Cordon Bleu that day – we used to get hundreds of those donated each week. Twenty-eight years later, chicken is still on the menu, but so much else has changed. And so very many meals were served at the Central Kitchen: people were fed; relationships were formed; and really great social work happened. I want to acknowledge just how important that operation was for so many people over so many years." Mark Swann, Executive Director, Preble Street
"My wife passed away four years ago, and I needed something in my life, so I came here. So many nice people. I met some that were in the same position, they'd lost a spouse. I've developed some really nice relationships. I even developed relationships with some of the people experiencing homelessness because back then we served them on serving line." John Reali, Preble Street volunteer for four years
"The Central Kitchen provided a really good feeling of teamwork within its walls – for us as volunteers, for the people that we were serving the meal to, and the caseworkers in that room. When we had clients in the room, I encountered a lot of people that I would take their plate from at the end of the meal — for all my time in the kitchen, I worked with the dish pit crew. And it becomes like a friendship. We don't have any real information about each other, but through the Kitchen, we were able to smile at somebody and recognize them." Linda Holtslander, Preble Street volunteer
"I remember, someone donated 500 lobsters, live lobsters! And we cooked them on the stovetop, like 10 to 12 at a time in like five pans, and it was hot and steamy in there that day! And it was just crazy, but it was fun. Always fun." Bob Harradon, Preble Street volunteer since the 1980s
"Doing something that may make a difference, you know, by providing meals for people who probably wouldn't get a decent meal. And this place provides three decent meals a day. Three, sometimes phenomenal meals. So, I just feel like I'm doing something for the community to help people. That's what is important is making sure people don't go to sleep on the street hungry. At least we can provide them a meal." Rachel Barrett, Preble Street volunteer since March 2018
"Years ago, I walked into Preble Street Central Kitchen and found myself working in a commercial kitchen for the first time ever. Deena (Metzler) was running the kitchen that morning and after giving me the basic tour she set me up to toast bread and bagels for the morning meals. It was the beginning of becoming part of a group and organization that brought me a sense of satisfaction from the inside out. Watching Deena run the Kitchen with such calm, skill, kindness and purpose truly touched me and helped me grow and understand how to better meet the needs of our clients." Connie Ceconi, Preble Street volunteer