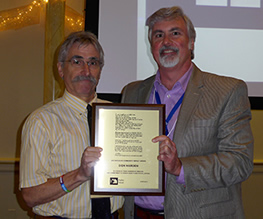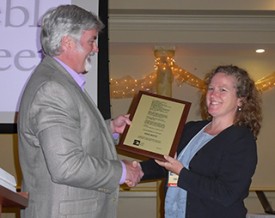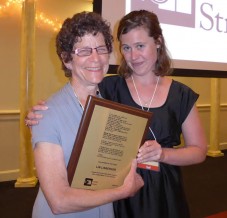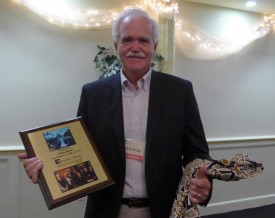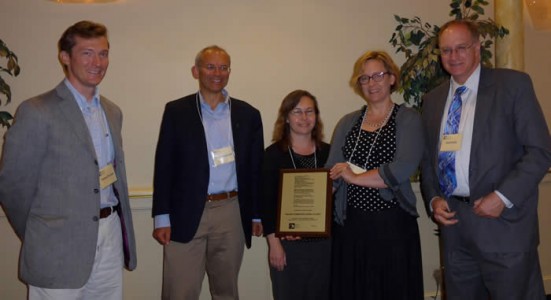 Preble Street Announces Community Awards
Don Harden, director of elder services at Catholic Charities of Maine, received the 2014 Joseph D. Kreisler Community Impact Award at the Preble Street annual meeting on June 17.
"We wanted to honor Don for his values and for what he stands for. He cares deeply about social and economic justice and he has spent his career doing something about it. Not just talking the talk, but walking the walk," said Preble Street executive director Mark Swann, who presented the award with David Kreisler, son of the organization's late founder, for whom the award is named.
"Without fail, we always have known we can count on Don to act, to advocate, to stand with us at Preble Street. Don always shows up, he's always steady and reliable, always smart and strategic, always a believer."
Other awards included the Preble Street Community Partner Award, presented to the Maine Homeless Legal Project. David Soley, who leads the real estate litigation group at Bernstein Shur, accepted the award on behalf of the American Bar Association, The Volunteer Lawyers Project, Pine Tree Legal Assistance, and volunteer lawyers from more than a dozen local firms. In presenting the award, Preble Street associate director Jon Bradley noted that, while this honor is usually reserved for longstanding Preble Street partners, the Maine Homeless Legal Project had already made a serious impact in the lives of homeless Mainers in just the few months it had been operating.
Lin Lisberger, an art lecturer at the University of Southern Maine, was honored as Volunteer of the Year. Lisberger, a community volunteer for more than 25 years, is known for her compassionate, uplifting spirit. Her unfailing willingness to help in any way she is needed has been indispensable in helping Preble Street serve more than 560,000 meals per year.
In addition to the community service awards, Edie White, LCSW, a social worker with Hospice of Southern Maine, was recognized as Board Member of the Year for her leadership and commitment to the Preble Street mission. The board also recognized outgoing board member Charlie Roscoe for his years of service.