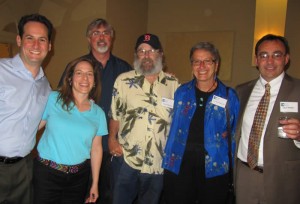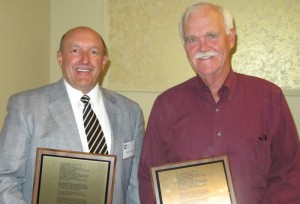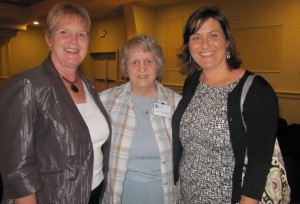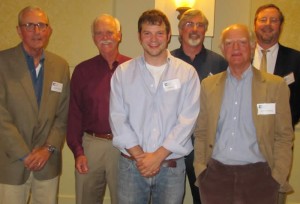 Preble Street Announces Community Awards
Two hundred staff and guests joined Preble Street on June 20 for their Annual Meeting to honor staff, community partners and volunteers for their commitment to helping our neighbors in need.
Hannaford was presented with the Community Partner Award, which recognizes an organization, group or funder that has had a profound impact on our work, our mission and our clients.
Bob Schools, Senior Vice President of Retail Sales, accepted the award for Hannaford. In presenting the award, Preble Street Executive Director Mark Swann said, "Hannaford has been very generous to us, providing well over a million meals in the past 20 years. Individual stores donate. Employees donate. Employees volunteer. The Hannaford Charitable Foundation built the Teen Center kitchen for us. Hannaford impresses all of us at Preble Street with not only all their day-to-day support for our work but also their community leadership and compassion."
Other awards included the Joseph D. Kreisler Community Impact Award, presented by David Kreisler, to Lucky Hollander of Portland. Hollander—who knew well, worked with, and was admired by Joe Kreisler, founder of Preble Street—has dedicated her career to the prevention of child abuse and neglect. From service in grassroots organizations to state agencies, Hollander has touched on all aspects of child welfare.
Lynne Goodwin of Portland was honored as Volunteer of the Year. Goodwin, a volunteer for Preble Street for more than eight years, is known for the leadership and dedication she provides in the soup kitchen for both staff and volunteers. Her hard work and exacting standards help Preble Street serve 500,000 meals a year.
Service awards were presented to Preble Street staff Peggy Lynch for ten years and Laurie Walker for five years of service and to Homeless Voices for Justice advocate dee Clarke for ten years of service.
In addition, Charlie Roscoe was recognized as Board Member of the Year for his leadership and commitment, and Terry Sutton, Vice President of E-Commerce at L.L. Bean, was named secretary of the Board of Directors. Ann Houser, Vice President of U.S. Human Resources at Unum, and J.E. Boone, family and marriage counselor at the Veterans Administration, were both recognized as they retired from the board.
Capping the meeting, former and current clients—including Tom Ptacek, dee Clarke, Patricia Smith, Donna Garnatt and Tillman Texeria—presented their personal stories of empowerment. Their experience struggling with homelessness and poverty and finding their voices and the courage to speak out was reflected in the words of Patricia Smith, who said:
"I myself was homeless for almost nine months. I slept every night at the Preble Street Shelter for Women. Thanks to the resources available to me at Preble Street and because of my hard work in trying to better myself, I have been in my own apartment for over a year.
"Two weeks ago, I spoke at a City Council meeting because I feel strongly about homelessness. I was overwhelmed with pride, joy, self-esteem, and dignity. My voice, along with many others, came together as one and I realized that as a community, we can make a difference."